| | | |
| --- | --- | --- |
| | Soul Summit Scottsdale | |
Retreat
Date:
September 12-15, 2019
Location:
Scottsdale, Arizona, USA
Venue:
Doubletree Resort Scottsdale
Address:
5401 N Scottsdale Rd, Scottsdale, AZ 85250
Time:
1:00 PM

Price:
$387.00 USD
Contact Info:
Kathleen Malone
Email:
Website:
Phone:
602-799-1617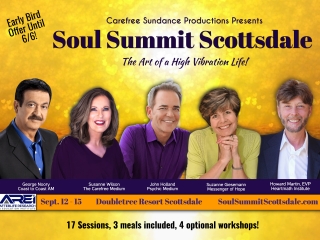 Soul Summit Scottsdale 2019
Soul Summit Scottsdale is an empowering immersion into the powerful potential of your heart & soul. Your SOUL is the center of this event. We will reveal tools and strategies for living in simpler, sweeter, softer terms in our rapidly changing world. Our lives personify more ease and grace as we live with the focus of raising our frequency and vibration for our highest good and ultimately that of the planet.
We will reveal scientifically authenticated techniques and tools for dissolving the wounds that hold us back from realizing the life we were born to live, in this rapidly changing world. You will learn the Art of High Vibration Living from some of the most extraordinary thought leaders and wisdom keepers of our time. A high frequency life is not for the select few! Learn to live in the greatest possibility of who you are now!
Integrate. Heal. Transform. Manifest. UpLevel. Make a difference.
We live in rapidly changing, chaotic times, some would even say we are in crisis mode. We can feel it deeply and it is taking it's toll. The Soul purpose of Soul Summit Scottsdale is to immerse ourselves in the scientifically authenticated tools of creating big bold resilience and to instill abiding peace, joy, happiness and the power to manifest our deepest desires!
Integrate. Heal. Transform. Manifest. UpLevel. Make a difference.
Self-love and Soul-care: If not now, when? Save your spot now!
Your Soul Summit Pass includes 17 Sessions & 3 Meals!

Early Bird Offer Ends 6/6.

Questions? Kathleen Malone, 602-799-1617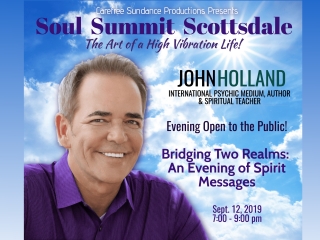 OPTIONAL Evening with Psychic Medium John Holland!
John Holland: Bridging Two Realms ~ Evening of Spirit Messages

During this special evening, John will present a fascinating insight into how a medium connects with Spirit to bring healing messages of hope, love, and inspiration. John will explain how our loved ones on the Other-Side continually try to send us signs and symbols to let us know they're still connected to us. He'll also explain how you can have your own personal connections.

He'll spend the majority of the evening giving as many messages as possible.

ABOUT JOHN HOLLAND
Internationally renowned psychic medium, spiritual teacher, author, and radio host. His public demonstrations provide audiences with a rare glimpse into the fascinating subject of mediumship, which he delivers in his own unique style, explaining the delicate process of raising his own vibrational energy to link with the Other-Side and deliver messages, which he does with clarity, passion and the utmost integrity. John has spent a significant part of his life developing his abilities, and spent two intensive years studying in the UK, where he got the thorough grounding and training to become one of the most sought after professional mediums on the world stage today!

This is a Pre Summit Event! Join us as John Holland and George Noory present and dinner gala event at the Soul Summit Scottsdale, Sept. 12 - 15, Scottsdale AZ! SoulSummitScottsdale.com

Questions? Kathleen Malone, 602-799-1617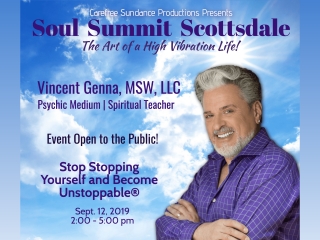 OPTIONAL Pre Summit Workshop at Soul Summit Scottsdale
Vincent Genna, MSW: Stop Stopping Yourself & Become Unstoppable
Vincent Genna, MSW presents a compelling conversation and workshop about becoming unstoppable in life. If you are NOT pursuing a rewarding career, in loving relationships, financially secure, healthy and vital, fulfilling your purpose and passion, or don't even KNOW your purpose or passion, then you are stopping yourself without even knowing it.

We all know what it is to feel and be less than authentic, less than fully self-expressed, less than feeling comfortable in our own skin. Vincent will talk about how to develop the consciousness and practices to elevate your ability to live an authentically expressed life.

You may have the knowledge and information to use the Law of Attraction and other metaphysical principles, but there are specific psychological anomalies that you must become aware of in order to put ANY spiritual principles into working practice! Discover the steps you need to take to manifest what you desire in this life.
After more than 35 years of experience and extensive research in the Metaphysical, Spiritual, and Psychology fields, Vincent isolated precisely what hinders us from evolving to our highest potential, even when we know how.

Vincent will reveal,
What those destructive mechanisms and processes are that have created blockages;

How to use mindfulness to bring to your awareness the unconscious blockages;

How to transform and release the resistances, illusions, sabotages, and self-created BS; and

How to wake up and unlock your purpose, passion, and brilliance and become unstoppable!
This is an experiential workshop that includes group and individual work with Vincent.

Become the master of your life, change all you want, manifest complete abundance, and fulfill all your dreams! You may have learned how from spiritual principles and universal laws. Now learn the vital key to make all you attempt work. Join the conversation and find out how you can become UNSTOPPABLE!!! You won't want to miss this.
ABOUT VINCENT GENNA, MSW
I believe that my true mission and purpose in this life is this:
To use my gifts to transform and heal others by empowering them to stop stopping themselves—and instead, believe in and love themselves. Once self-love and self-belief are realized, I truly believe all of us have the power to see our own magnificence and manifest all that we desire and deserve.
My fans say they are drawn to my methods because I speak to them as a friend would, with genuine compassion and pure love, using words that resonate with their whole being.
But perhaps what they respond to most is that I'm not afraid to get in the gutter with them and tell it like it is.
My psychic and mediumship abilities allow me to reach into the beyond to find and define meaningful guidance for my audience. My psychotherapy skills helps them use this enlightenment to heal and grow.
Yes, I may smack people upside the head (figuratively, of course!) with tough-to-hear messages, but in the end, they always hug and thank me, and dance out the door, completely energized, hopeful, focused and filled with love!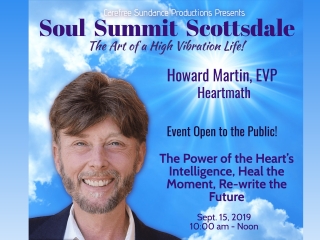 OPTIONAL Post Summit Workshop ~ HEARTMATH COMES TO SCOTTSDALE!
Howard Martin Presents: The Power of the Heart's Intelligence, Heal the Moment, Re-write the Future
We're living in a time of extremes—the uncharted territory of a world that's changing in ways that we're not used to and, for many of us, the changes have happened faster than we've been prepared to accept.

How do we embrace such a magnitude of change in a healthy way? The answer to this question is found in paradigm-altering discoveries about the new science of neuro-cardiology (the bridge between the brain and the heart) and the unseen ways in which we are connected, influencing not only our lives but the future.

Experience a special, uplifting and insightful event, The Power of the Heart's Intelligence, Heal the Moment, Re-write the Future, with celebrated author, speaker and business leader Howard Martin.

Howard is the co-author of the Best Selling books book The HeartMath Solution and Heart Intelligence. He is one of the original leaders who assisted Doc Childre the founder of HeartMath in creating the HeartMath System. Perhaps you have read his books, heard him speak or have seen him in movies like The Power of the Heart, The Incredible You and The Truth. Now, you have the opportunity to attend an event him to learn and experience the profound work of the HeartMath Institute.
"Howard Martin has inspired thousands of people around the world to gain better control of their lives. His work is paramount in helping people change their health, increase their mental edge, realize their spiritual connection by opening their heart and unfold into a more enriched destiny. His eloquent presentations are simple, light-hearted, inspirational, scientifically valid, and most importantly, they work. Howard is the living example of the natural balance between head and heart."
~ Dr. Joe Dispenza, featured speaker in What the BLEEP Do We Know, author, Evolve Your Brain and Becoming Supernatural: How Common People Are Doing the Uncommon

In this Special Program you will:
Develop a deeper understanding of how to deal with the speed of change and move beyond the past into the future

Learn about Heart Intelligence–a scientific understanding of the power of the heart

Explore compelling science about heart/brain/body communication

Discover Heart Coherence—an optimal state of awareness, health, and performance

Understand The Power of Positive Emotion– access codes to fulfillment

Witness a real-time demonstration of the heart's biological communication

Attend The Power of the Heart's Intelligence, Heal the Moment, Re-write the Future with Howard and learn a science-based system backed by more than 25 years of research… and earning the trust of more than 5 Million people worldwide. Experience the benefits of HeartMath for yourself, information that will change the way you live your life.
"Howard Martin is a dynamic, compelling speaker with a vital message about the role of the heart in transforming our lives and the world. His authenticity, care and extraordinary ability to inform and inspire leaves you feeling like you've just experienced something very special that you will remember forever."
~ Marci Shimoff, Author New York Times Best Seller, Happy for No Reason, featured teacher in The Secret
SAVE YOUR SPOT NOW!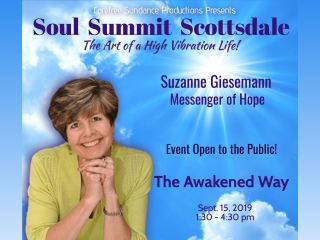 OPTIONAL POST SUMMIT WORKSHOP!
Suzanne Giesemann Presents: The Awakened Way
What does it take to live life consciously, committed to living up to your soul's full potential? Join Suzanne Giesemann, founder of The Awakened Way, and step fearlessly onto the path of a love-centered life. Suzanne liberally laces her teaching with evidence from her daily communication across the veil and shows how you, too, are part of one big web, connecting all that is. Learn specific steps and processes for aligning with your True Nature and connecting with Universal Consciousness. This extended workshop will take you beyond basic metaphysics to such advanced concepts as:

* Seeing with the eyes of the soul
* Eliminating ego and finding freedom
* Rewriting your story from victim to victor
* You will leave this powerful workshop with:
* Tools to release emotional and energetic blockages
* A precise method for raising your consciousness and connecting across the veil
* A greater sense of peace and connection with All That Is

ABOUT Suzanne Giesemann, Messenger of Hope

Suzanne Giesemann is a Messenger of Hope and the founder and teacher of The Awakened Way – a path to knowing Who you are and why you're here. As an evidential medium and messenger of hope, she provides stunning evidence of our innate connection with Universal Consciousness.
ABOUT Suzanne Giesemann

Suzanne Giesemann shows people the way to peace, happiness, and freedom from the ego. A former U.S. Navy Commander who served as a commanding officer and aide to the Chairman of the Joint Chiefs of Staff, today she provides stunning evidence of the existence of Universal Consciousness and our interconnectedness. Whether in her books, her classes and workshops, her radio show, or her one-on-one sessions, she brings messages of hope, healing, and love that go straight to the heart and illuminate the light of self-awareness within. For more information, please visit www.SuzanneGiesemann.com.
This is a Post Summit Workshop! Join us at the Soul Summit Scottsdale, September 12 - 15. 17 Sessions and 3 Meals included in your Summit Pass! SoulSummitScottsdale.com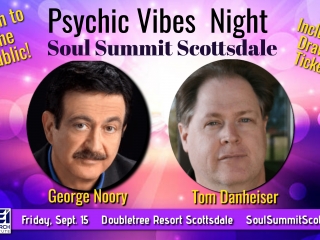 OPTIONAL Friday Night FUN!
Psychic Vibes Night
Come and support AREI and join in the psychic fun!
On Friday night, George Noory and Producer Tom Danheiser have planned a fun night of Psychic Vibes that are sure to thrill. Enjoy a psychic challenge game show, hear messages from psychic mediums*, and win prizes in our fundraising raffle.
Audience members will be chosen as contestants to play a game we call "Truth or Not." Put your psychic skills to the test as each of six panelists will tell you a story about a special item you will be shown.
Truth or Not Panel:
Tom Danheiser

Susanne Wilson

Arizona Bell

Morgan Garza

Ernie Jackson

Debra Martin

Will your psychic abilities let you reveal who is telling the truth about the item?
Five will fib. One speaks the truth. Win a prize if you can tell us who has the correct story!
But wait, there's more! Super psychometrist Mark Christopher Nelson will read energies of objects from audience members at random and The Traveling Intuitive, Candice Parisi will give readings to audience members! Expect the unexpected at George Noory's Psychic Vibes Night to benefit AREI. *
* No one is guaranteed a personal message.